'Digital Crossings in Europe: Gender, Diaspora and Belonging' (CONNECTINGEUROPE).
This project is funded by the European Research Council (ERC), by way of a Consolidator Grant awarded to the principal investigator (PI) Prof. Sandra Ponzanesi (Professor of Gender and Postcolonial Studies, Department of Media and Culture Studies Utrecht University, the Netherlands).
The project (2016-2021) aims to investigate the relation between migration and digital technologies, in particular the way in which the 'connected migrant' contributes to new forms of European integration and cosmopolitan citizenship. The project explores digital diasporas in relation to issues of gender, ethnicity and affective belonging, focusing on how new technologies enhance new forms of connectivity between the homeland and destination countries, bus also across diasporas. The project pioneers a new interdisciplinary method that combines media studies, postcolonial theories, digital humanities and gender studies, drawing from the humanities and social science.
It proposes a comparative approach, based on qualitative digital methods, that focuses on Somali, Romanian and Turkish women migrants who have settled in some of Europe's main cities (London – PhD1, Amsterdam – PhD2 and Rome – PhD3) and the way in which they keep digitally and emotionally connected to their homeland cities (Mogadishu, Bucharest, Istanbul – Postdoc). The project will chart how different forms of migration (labour, postcolonial and postsocialist) impact on the new European order at the local and transnational levels. Read more
Every year numerous migrants enter Europe legally and illegally, constructing and sustaining transnational networks through online technologies. These 'connected migrants' reconfigure notions of identity, gender and belonging and contribute to a new understanding of Europe as a multidirectional networked society.
Digital Crossings in Europe aims to advance a novel and comprehensive study on gendered migrant networks in Europe. Drawing from the humanities and social sciences the projects combines media and communication studies with gender and postcolonial studies, providing a qualitative approach to the emerging field of critical data studies, while also contributing to the development of postcolonial digital humanities. To this end, the project will work with a mixed methodology that combines digital methods for data visualisation and network analysis in combination with virtual ethnography, in-depth interviews, photo-elicitation techniques and discourse analysis. This will make user-generated digital footprints across applications emerge as hybridised and heterogeneous forms of participation that change the way we understand and account for social inclusion, gender emancipation, intercultural identities and the idea of Europe itself.
Focus:
The project focuses on migrant women (aged 18-40) who have settled in Europe's main cities (London, Amsterdam, Rome), in dialogue with family and loved ones they have left behind (Somalia, Romania, Turkey).
The  focus  on  gender  migration,  i.e.  female  migration,  is  motivated  by  the  so-called femininisation  of migration. Though a substantial body of theoretical, policy and case study literature has been produced on female  migrants  in Europe,  the full extent  of their digital  participation  and agency  in diverse  migratory processes  has  not  been adequately  acknowledged  and  assessed.  Global  scale  female migratory  flows are connected  to family reunion, arranged marriages,  love-chain  and care-drain, but also to more unsettling issues  such  as  trafficking  of  women,  or  women  escaping  violent conflict.
Focusing on female migrant diaspora from Somalia, Turkey and Romania living in Europe's main metropolitan centres (London, Amsterdam, Rome) is relevant for several reasons:
1) it makes it possible to address different patterns of gender migration and integration in Europe (colonial, labour, postsocialist) that account  for Europe's  imperial past, as well as post-war patterns  of migration  and processes  of European integration;
2) it explores  countries  (UK,  the  Netherlands,  Italy)  that  are  heavy  receivers  of historically different migrant flows and have undergone several shifts in state multicultural  policies; 3) it explores the dynamic  of European,  as well  as emerging transnational  cities  (Istanbul,  Mogadishu  and  Bucharest),  as cosmopolitan  hubs where difference  and conviviality  are often grafted into each other, radiating from the local to the global.
Methodology:
Drawing from the humanities and social sciences the project proposes to map and theorise new forms of digital diasporas contributing to the debate on critical data studies and advancing the field of postcolonial digital humanities. It will do so by integrating qualitative and quantitative methods combining media and communication studies with gender and postcolonial studies (digital methods, virtual ethnography, photo-elicitations and discourse analysis).
Projects
The project is organized through 3 Phds projects, one postdoc and a synthetic overview by the principal investigator on postcolonial digital humanities:
PhD1: Digital Diasporas: London
PhD2: Digital Diasporas: Amsterdam
The three inter-related projects reconsider diasporas in their complex digital extensions, expressions and reinventions in both physical and virtual spaces: digital diasporas. They will work in close collaboration on three forms of migration to and within Europe; diaspora from former colonies (Somalia), labour diaspora (Turkish) and diaspora from Eastern Europe (Romanian), in their interconnection through links and movements in main urban centres (London, Rome, Amsterdam).
Though each individual PhD will focus on conducting comparative fieldwork on the three communities (Somali, Turkish and Romanian) in different countries (PhD1 London; PhD2 Amsterdam; PhD3 Rome), they will have to work in close collaborations to exchange data, networks and results. The division of tasks between the three researchers will consist of collaborating on devising the tools for digital methods, virtual ethnographies, interview schemes and visual analysis in combination with the common mapping and tracking of migrants sites related to these communities and focusing on their interaction through Europe's major cities. They will work in close collaboration through all stages under the supervision of the PI, with support of the Postdoc and research assistants
Postdoc: Homeland 3 – The Politics of Home
The Postdoc will depart from the preliminary data provided by PhD1, PhD2, PhD3 by elaborating on the connections that migrants to Europe's major cities have left behind. This will imply expanding Europe's boundaries through migrants' many transnational ties. The Postdoc will conduct interviews in the countries of origin and departure (Somalia, Turkey, Romania; i.e. major cities Mogadishu, Istanbul, Bucharest) with family members, loved ones and peers to explore how Europe is imagined from elsewhere and love ties are sustained and mediatised. The postdoc will therefore focus on the monitoring, visualisization and discussion of diasporic sentiments (such as love, nostalgia, memories, longing) and transnational ties (connectivity, links and networks) through the analysis of photos posted online, but also pictures made for the projects to be used for the final exhibition.
The NOG is a top European programme and plays a central role in European cooperation on research and training in the area of Gender and Postcolonial studies.
Mapping Transnational Motherhood: The Case of Romanian "Children Left Behind"
Introduction
The issue we want to map revolves around an online campaign in Italy: "Te iubeste mama!/Mamma ti vuole bene!" (trans. Mum Loves you!) This is the most important campaign among Italian NGOs addressing the phenomenon of the so-called "children left behind" and is promoted by the Italian-Romanian women's organization A.D.R.I. (Associazione Donne Romene in Italia). What's the wider context?
The campaign was a response to the process of "care drain" from Romania to Italy. "Care drain" describes the process by which women from the Global South leave behind their own children to move to First World countries in order to gain a higher income and fulfil the demand for paid work as the carer of First World children.
Italian and other NGOs signalled that depression among the migrant caregiving women, and suicide rates and their children "left behind" in Romania, were disproportionately high.
At the same time, these working women are stigmatized for being bad mothers, and the children were seen as victims.
We want to investigate this issue online in order to understand more about how its has spread via different media forms, across different national mediascapes.
Initial Data Sets
URL list from Google search query: "Te iubiste mama!" from Romanian and Italian domains
Issue Crawler output based on input of top 100 sites from Google scrape – also for both national domains
Facebook page like network data for the campaign website
Youtube video network data for the main campaign youtube video
Research Questions
To what extent does the issue mobilize different parts of the Italian-based Romanian diaspora on different platforms?
We expected that the issue would spread differently via specific platforms. And we thought we might find differences between how the issue circulates in Italian and the Romanian online spaces.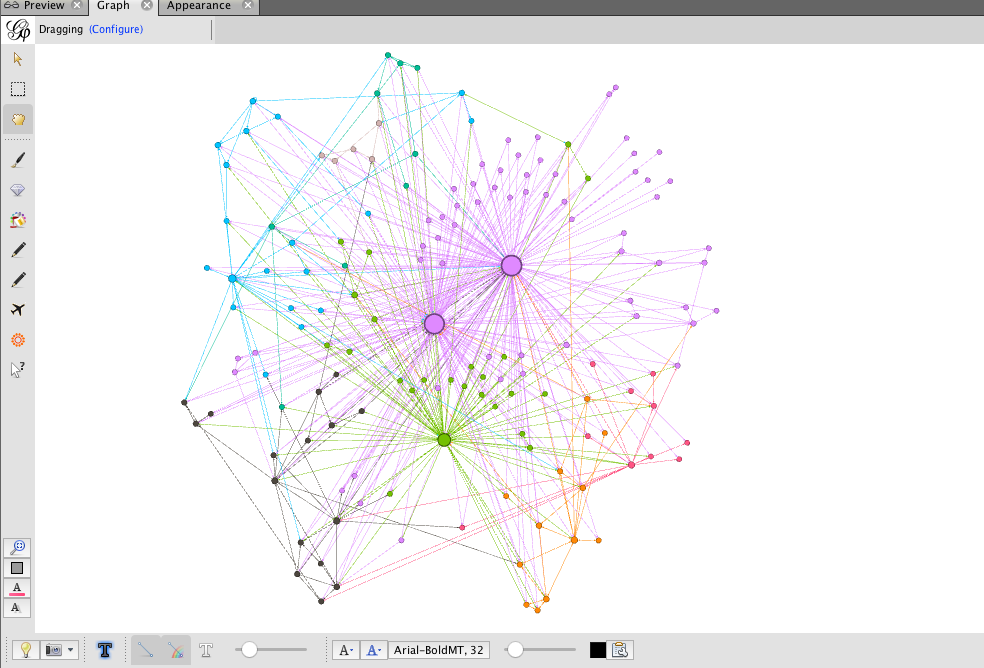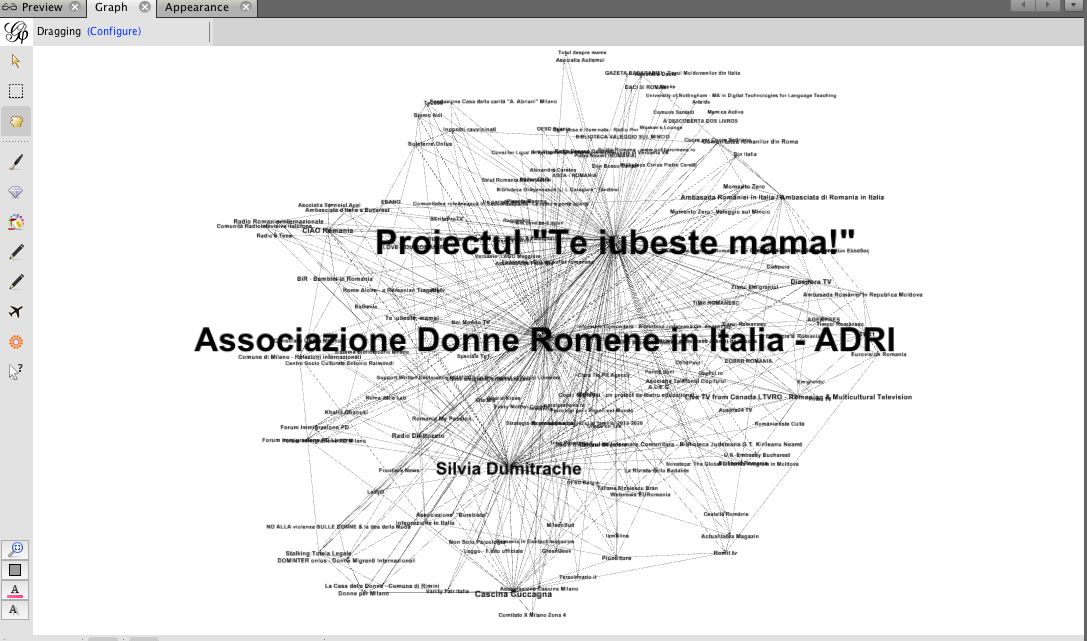 (…)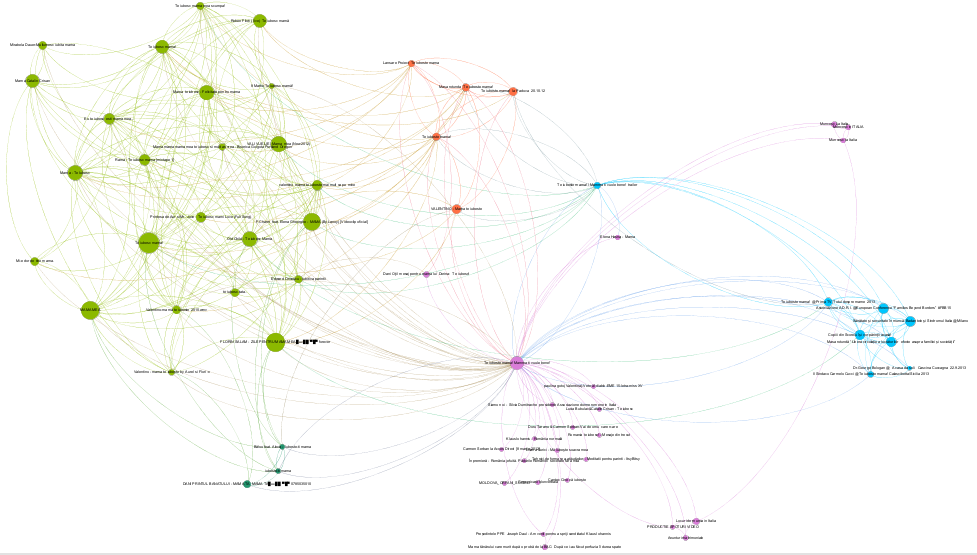 (…)
Findings
Facebook Page Like Network for campaign page:
3 main nodes: campaign page (seed), organization initiating the campaign, page of individual who founded the campaign. (No visible clusters)
Local Italian cluster: Italian (women's) associations cluster, Democratic Party.
Romanian clusters: diaspora/international Romanian TV channels; libraries in Romania (collaborating with a campaign project), transnational motherhood
The most striking overall finding was that there was no Italian national cluster in the visualization. Rather, the local dimension of the issue network in Italy was clearly dominant. The local Italian cluster included a variety of different organizations based in specific cities, in particular Milan. Aside from the locally-oriented Italian clusters, there was a broad section of the network that related to Romanian diaspora issues more broadly. These included pages about diaspora/international Romanian TV channels, on transnational Romanian motherhood, and also a sub-cluster of pages of libraries based in Romania (who worked together with the project on events that placed mothers and children in contact with each other via Skype).
In addition, we found a marginal but recurrent cross-diaspora connection to Moldova (when also taking into consideration the URLs from Google Scrape) in the form of a joint Moldovan-Romanian diaspora organization based in Italy appearing in the network, and hyperlink (in the URL list – next section) to an Italian language article mentioning a case of a Moldovan woman migrating to Italy, leaving behind her child.
Donya Alinejad, Claudia Minchilli @'Digital Crossings in Europe: Gender, Diaspora and Belonging' (CONNECTINGEUROPE)